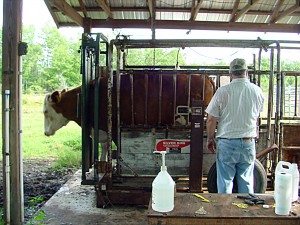 Most cattlemen would agree Estrus Synchronization and Artificial Insemination (ESAI) enables producers to use genetics superior to available natural service sires, however these technologies are utilized by less than five percent of the national cowherd. Although not widely used, ESAI offers significant potential to add value, improve production efficiency and improve profitability.
The widespread use of ESAI has been limited by lack of consistent performance, expense, additional labor, facilities and management skills. ESAI allows the use of genetically superior sires, increasing the proportion of cattle calving earlier in the breeding season, increases the uniformity of the calf crop, calving ease, weaning weights and marketing opportunities. Adoption of ESAI also enables producers to better compete in a value based marketing system.
An educational meeting for cattle producers to discuss ESAI will be held on Thursday, May 24, 2012 at the Auburn University Gulf Coast Research and Extension Center in Fairhope, with registration beginning at 6:30 PM. Results from the ESAI demonstration held on November 28, 2011 at the Gulf Coast Research and Extension Center in Fairhope will be presented, along with reproductive herd health and estrus synchronization tools.
An online decision-making tool, The Estrus Synchronization Planner designed by the Beef Reproduction Task Force, will also be presented. This user-based tool is designed specifically for cattle producers and allows users to evaluate and select estrus synchronization protocols, schedule breeding and evaluate costs.
Cattle producers interested in attending must RSVP to the Auburn University Gulf Coast Research and Extension Center by calling (251) 928-2740 by Wednesday, May 23, 2012. This educational meeting is sponsored by Alabama BCIA and the Alabama Cooperative Extension System.
For more information, please contact:
Anthony Wiggins
Regional Extension Agent
(251) 575-3477, wiggia1@auburn.edu
Joshua Elmore
Regional Extension Agent
(205) 646-3610, elmorjb@auburn.edu
Michelle Elmore
Extension Animal Scientist/Beef Cattle Improvement
(205) 646-0115, elmormf@auburn.edu