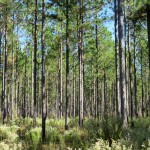 The Alabama Cooperative Extension System is offering workshops on income tax issues related to owning timberland and the production of forest products. The following topics will be covered:
Tax aspects of acquiring land
Allocating basis
Setting up timber accounts
Using separately identifiable properties
Calculating depletion allowance
Reporting income from harvesting timber
Reporting the cost of planting and site preparation, fertilization, timber stand improvement, and other cultural treatments, roads, and surveys
Disposing or exchanging of property
The three remaining locations that are closest to the Panhandle welcome both Florida and Alabama participants.
January 23— Lee County Extension Office in Opelika, AL
January 26–Monroe County Extension Office in Monroeville, AL
January 31–Gulf Coast Research Center in Fairhope, AL
To register, visit  www.aces.edu/timbertax or call 334-844-5100 to register by phone.  The cost of attending either the full 6-hour daytime training or the 2.5-hour evening meeting at each location are listed below.  We hope to see you at one of these upcoming educational meetings.